Polaris
Opinion by Sarwar Kashmeri
Meet Stefania Auci, best-selling writer of "The Florios of Italy"
POLARIS-LIVE: Tuesday 17 December 2020. 0900 EST (Sicily 1500; Beijing 2200)
With Stefania Auci, in a live conversation with Sarwar Kashmeri, host, Polaris-Live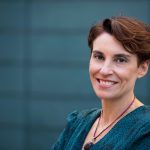 A grand, sweeping novel set in early 19th C, the brilliant best-selling Sicilian novelist Stefania Auci, unfolds the true story of the Florio family of Sicily.  Determined to be richer and more powerful than anybody else, the larger-than-life Florio men and women of Stefania's novel march from rags to riches and literally drag Sicily with them to the apex of wealth and power. Stefania's novel is also a lesson in bold initiatives, risk-taking, entrepreneurial drive, and the power of open and free commerce to transform lives and countries. (photo credit: Yuma Martellanz.)
In a Polaris-Live exclusive, Stefania Auci will share her love of writing, of Sicily, of Italy, and the Florio family.
Please Click Here to view this live interview with guest, Stefania Auci as she and Sarwar Kashmeri discuss her best-selling novel and her love of Sicily.
(The video will be available on the Polaris-Live playlist  You Tube channel after the live conversation.)