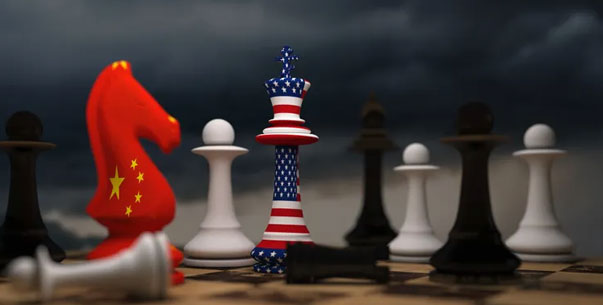 PolarisLive: February, March and April 2022 Schedule
February 22. 2022 8:00AM EST

Jonathan Fulton-Panel Discussion-U.S./China: Middle East Strategic Competition
From Abu Dhabi, UAE, Guest moderator, Prof. Jonathan Fulton, Zayed University and panelists Daniel Cederberg, Regional China Officer for the Middle East and North Africa, U.S. Department of State and Prof. Shaojin Chai, University of Sharjah will moderate panelists from the Middle East to discuss China's accelerating business, economic, and cultural inroads into the Middle East; Is the U.S. paying attention to the warmth, breadth and depth of the Middle East's welcome to China?
8 March, 2022 7:30AM EST
Henry Gao – A New Chinese Economic Order?
Henry Gao is a CIGI senior fellow and a law professor at Singapore Management University. With law degrees from three continents, he started his career as the first Chinese lawyer at the World Trade Organization (WTO) Secretariat. He taught law at the University of Hong Kong, where he was also deputy director of the East Asian International Economic Law and Policy (IELPO) program. He has taught at the IELPO program in Barcelona, Spain, and the Academy of International Trade Law in Macau, and was the academic coordinator for the first Asia-Pacific Regional Trade Policy Course officially sponsored by the WTO.
15 March, 2022 9:30AM EST
Deanna Horton – Canada between China and the US
Deanna Horton is a Senior Fellow at the Munk School of Global Affairs and Public Policy. She is a Global Fellow at the Wilson Center for International Scholars in Washington, DC, a Senior Fellow at the Asia-Pacific Foundation, and at the Canadian Global Affairs Institute. She is a Board member of the Stratford-Perth County Museum. She speaks French, Japanese, and German.
Previously a career foreign service officer, she was appointed as Ambassador of Canada to the Socialist Republic of Vietnam, the Canadian Embassy in Washington as Minister (Congressional, Public and Intergovernmental Affairs). She was a negotiator on the North American Free Trade Agreement. She served as Director, Canada's Office of the Deputy Minister for International Trade.
24 March, 2022 9:30AM EST
Susan Thornton – China Tariffs? Americans Deserve Better
Guest host Arthur Kroeber, highly respected analyst of China's economy with Polaris-Live's guest Ambassador Susan Thornton.
Susan A. Thornton was Acting Assistant Secretary of State for East Asian and Pacific Affairs during the first 18 months of the Trump administration and led East Asia policy-making amid crises with North Korea, escalating trade tensions with China. She is a retired senior U.S. diplomat with almost three decades of experience with the U.S. State Department in Eurasia and East Asia. She is currently a Senior Fellow and Visiting Lecturer in Law at the Yale Law School Paul Tsai China Center. She is also the director of the Forum on Asia-Pacific Security at the National Committee on American Foreign Policy and a nonresident senior fellow at the Brookings Institution.
4 April, 2022 9:00PM EST
Dewi Fortuna Anwar – ASEAN, U.S., and China
Professor Dewi Fortuna Anwar is a Research Professor at the Centre for Politics at the Indonesian Institute of Sciences. She previously served as Deputy Secretary in the Vice President's office from 2010-2017 and a senior foreign affairs official from 1998-1999. She has also advised many international organisations and is currently a governing board member of the Stockholm International Peace Research Institute (SIPRI).
26 April, 2022 9:30AM EST
Deborah Brautigam: China's BRI NOT debt trap
Some journalists, pundits and policymakers have promoted the idea that Chinese banks deliberately lend to risky countries to secure strategic assets. Prof. Brautigam's research questions the evidence for "debt trap diplomacy."
The nature of Chinese lending in risky countries remains poorly understood, a weakness that leads to faulty assumptions that result that are an impediment for crafting an effective U.S. foreign policy for China.
Deborah Brautigam, a leading expert on China in Africa, and China's vast infrastructure project-Belt and Road Initiative (BRI) – is the Bernard L. Schwartz Professor of International Political Economy and Director of the China Africa Research Initiative (CARI) at Johns Hopkins University's School of Advanced International Studies (SAIS) in Washington, DC. A Sinologist with extensive Africa research experience, she is the author of over 50 journal articles and book chapters.
Read More »