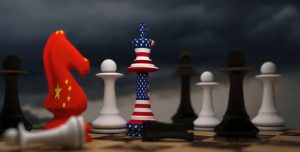 The United States decisively terminated its 20 year long war in Afghanistan on August 31, 2021. In the world of geopolitics it was a seminal event, for many reasons: It was another military defeat for the world's richest country with the world's most powerful and well equipped military, at the hands of the Taliban, an army only in name that fights in sandals. A humiliating ending for America, to say the least.
While it is too early to figure out what this defeat means for America, for Afghanistan, China, India, and Pakistan–the key players in that part of the world, it is not too early to state that the impact will be profound.
PolarisLive joins this geopolitically, and economically critical dialogue in our October 2021 lineup featuring experts from the U.S., India, and Pakistan.
12 October 2021 9:30AM ET

Larry Goodson & Pamela Crossley – Out of Afghanistan
On October 12, Professor Pamela Crossley, Dartmouth College's renowned China expert will host PolarisLive's guest Professor Larry Goodson of the U.S. Army War College. Prof. Goodson is one of the most knowledgeable Americans about Afghanistan, and its neighbors, especially India and Pakistan. He is steeped in the geopolitics of all three countries through numerous visits and his views are sought out by U.S. military and political leaders. Goodson and Crossley will set the stage for PolarisLive's discussion of the impact of America's defeat by the Taliban on the Asian subcontinent and for America's policy for the region.
19 October 2021 7:00AM ET
Ayushi Ketkar, Prof. J.N University, India – Out of India
On October 19, we welcome Professor Ayushi Ketkar, from Jawarhalal Nehru University, New Delhi, India and its Special Center for National Security Studies. Her latest book "Geopolitics of the Himalayan Region," is essential reading to understand the fault lines of that region.
26 October 2021 7:30AM ET
Dr. Nadim Hussain, Islamic Policy Research Institute – Out of Afghanistan
On 26 October we welcome Dr. Nadim Hussain, Executive Director of Islamabad Policy Research Institute (IPRI) based in Islamabad. He was previously the director of South Asia Study Group at the University of Sydney. He has served in senior advisory roles in the Government of Pakistan on matters of security, development and foreign policy.
Read More »