Polaris
Opinion by Sarwar Kashmeri
Polaris Live : September Schedule
Live conversations with global experts on a fresh U.S. policy for China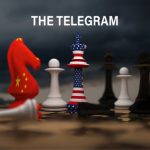 Welcome to PolarisLive's 2nd year. . It is a pleasure for me to announce our September 2021 guest lineup and some programming changes that you will notice during the next year.
First the changes. They are a direct result of feedback from you, our viewers.
Beginning this month you will occasionally see someone else in the host's chair. This will let us broaden the perspective of the informed and forthright conversation you have come to expect from PolarisLive. In a way this is like the "by invitation" guest columns in forward-thinking media. Another innovative step in PolarisLive's leadership in exploring the most consequential relationship of our time–that between the United States and China.
We will also move to a bi-weekly format to give more depth to understanding the topic that is being illuminated. But we do this with an entrepreneurial caveat—whenever current events dictate PolarisLive will add an episode between the bi-weekly lineup that is sent to you at the beginning of each month.
We have changed the umbrella title for PolarisLive from "A China Agenda for President Biden," to "The United States and China in the World." The former title was a prelude to my report "The Telegram: A China Agenda for President Biden," for the Foreign Policy Association (FPA)–which you can download from my website. Now we widen the aperture to take in the increasing complexity of the U.S. – China relationship. Think the American departure from Afghanistan and its impact on U.S.-India-Pakistan-China; increased complexity is an understatement, By the way, PolarisLive will explore the Afghan development through U.S., China, India, and Pakistan perspectives during October. Watch out for the announcements.
Now for the September 2021 line-up:
14 September 2021 5PM-6PM ET
An interview with Shan Weijian: Is China's Communist Party jealous of its Capitalists?

On September 14, Shan Weijian, Chairman and CEO of PAG, one of Asia's most influential private-equity firms, returns to PolarisLive to discuss the apparent turmoil in China's giant financial-technology marketplace. What's behind the last minute cancellation of large Chinese IPO's on Wall Street. Is President Xi Jinping trying to bring China's red-hot capitalism to heel? Is the Western media reporting these events accurately? Is Wall Street's position as the world's financial center in danger?

Date: Tuesday, September 14th Time: 8 AM -9 AM (ET)
21 September 2021 9:30AM-10:30AM ET
Prof. Li Xing, on "The Telegram: The United States and China in the World."
On September 21 (see we've broken the bi-weekly format rule already!) Professor Xing Li, of Aalborg University, Denmark, takes over as PolarisLive's host to question me about my analysis of the FPA report and especially its more controversial recommendations for large joint China-U.S. projects to ease the hostility between them. EG: the U.S. should use Wall Street money, American workers, and China's expertise to rebuild American infrastructure.

Date: Tuesday, September 21 Time: 9:30 AM - 10:30 AM (ET)
28 September 2021 1PM-2PM ET
Suzanne Nielsen, Colonel U.S. Army on "The Telegram: The United States and China in the World."
On September 28, Suzanne Nielsen, Department Chair of the U.S. Military Academy at West Point's famous Department of Social Studies (SOSH) takes over as host (in a personal capacity) to review the FPA report. Colonel Nielsen is one of the brightest thinkers in U.S. national security circles, and you won't want to miss this episode.

Date: Tuesday, September 28 Time: 1 PM - 2 PM (ET)